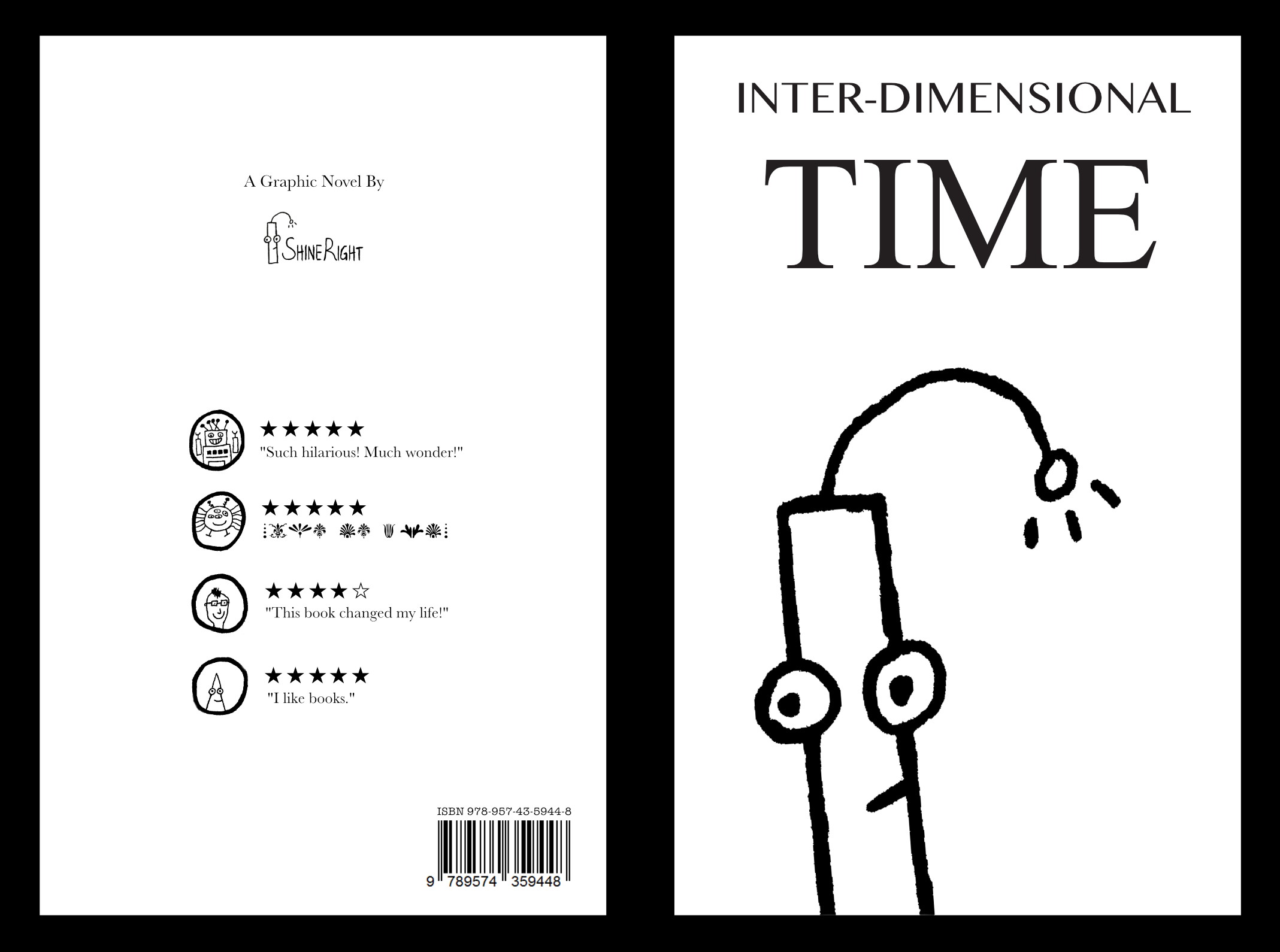 Purchase On Amazon
Sample Chapters
Recipe . Movies . News . Life Pro Tips . Ads 1 . Ads 2
Description
O piteous soul, in such dull dimensions thou sinkest…
Inter-dimensional Time is a cross dimensional pseudo-periodical published by Schineright Publishing Inc. in the great nation of the United States of Eurasia, Earth (Œ-137). It features all kinds of appealing topics such as pseudo-scientific discoveries, interstellar molecular politics, techno-tech-tock-technologies, post-post-post-modern art, litter-literature, muse-music, move-movies, ravel travel gravel information, wal' liki mou' dædou yåk', determinant advertisement, and other crazy but indispensable stuff.
In this month's Inter-dimensional Time, our cover person is Thoi Rodhead, the famous Rodovian scientist who invented the Bioheadlamp, making our World a brighter place. We have an exclusive interview with her on how she overcome obstacles and make a profit from her omnipresent invention.
This book is a must-buy for universal beings at ages below 11.5505 and above 11.5942 because it enhances your kritical thïnking gîlls, expands your glòwbäll hørîzõn, schtímülàtês yôūr posïtįve thóūghtsch, and helps yøu with…ŒKWÆLXSÖ¡ÂPËŠŸ!!!!!!!!!! Most importantly, however, the profit of this book will be transferred philanthropically to the author's bank account. Since the author is sæd and pöör, giving him money is an optimal method to accumulate your karma. May you have an optimal afterlife (after your life, of course)!
Inspired by Interdimensiontal Cable in Rick and Morty by the waaaah-ay.
Reviews
"42/42" ― Inter-dimensional Times Book Review
"Such hilarious. Much wonder." ― RODOVIANS DAILY
"this is art" ― Post-post-post-modern Art Committee
"Nice pillow material." ― Landing Bay Fanny Fungal Furnitures
There are also Line Stickers for Inter-dimensional Time, featuring the beloved Rodovian actress – Rnoi: